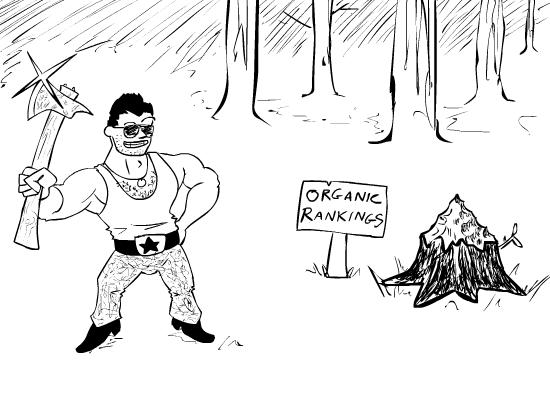 Hard-earned SEO results can sometimes be cut down overnight – maybe it's
time for a newstrategy!
Can Google's results be controlled? No.
Is it possible to formulate a workable SEO strategy that will benefit your company or reputation online? Yes.
If your Website ranks well on Google and you are reaping the benefits on a daily basis, it's easy to get comfortable. Although Google may feel like a natural, sort of organic service — you feed it links, build up profiles, and do all the other homework it takes to get traffic via long-tail terms — there is no guarantee things will stay the same.
Google is a software program that consists of scripts and algorithms, it's ongoing development is handled by a team of software engineers that constantly update the way it behaves and responds to commands, i.e. search queries. At any point in time (just as was done a few weeks ago) the SERP (Search Engine Results Page) listings can completely change for good; as a result, website owners have found themselves losing up to 50% or more of traffic immediately.
Back in 2007, I experienced the unpredictability of Google first hand while working at an internet marketing and PR firm in Pasadena, CA. My official title at the time was "Traffic Manager" (since we worked in the PR field, the title "Traffic Manager" was preferred over "Project Manager" due to traditional usage) and my main duties were managing writers and projects.
As I was new to the industry, my daily routine included learning sessions on various SEO strategies and practices — such as link building and online reputation management.
After a few months of working there, I became very curious with how my own name "Jack Napier" ranked and started to monitor the position of some of my social profiles on Google. I proceeded to sign-up to additional services such as Linkedin to help with this and after about 90 days saw good results. Many of the profiles I had created were already within the top 5 listings on the first page!
One year has passed since that initial 90 day period and I'm on Google searching my name again. To my surprise, I only have one listing on the first page: my Linkedin profile. The rest of the page is being dominated by another player I never saw previously: A Puerto Rican porn star who has my same name!
My brain was spinning, how could I have never noticed this before. This guy just showed up out of nowhere… and Bam! Now he owns the majority of real estate on that page and my listings are nowhere to be seen. This came as a big shock to me and I decided to fight back. I created more profiles and even distributed online articles. Nothing helped. I eventually lost all real-estate on the first page and couldn't even find myself on the second page of results.
Over three years had passed and I knew it was time for a different SEO strategy. Either I was 1) going to continue battling for my own first and last name combination — Jack Napier — or 2) build a new strategy that involved my middle name "Michael". I ended up choosing the latter.
Presently, all of the articles I write (and even the link to my Facebook page) include my middle name. If you search online for either "Jack Michael Napier" or "Jack M Napier" you will see that I, once again dominate the majority of the top 5 listings on the first results page.
Take Away
When building SEO strategies keep in mind the amount of competition on any one keyword, never stop building upon your strategy (just like a good relationship,) and don't get comfortable — you never know what search engines will throw your way.
Jack M. Napier